2vs2 WORLD CUP
STARTING DATE
12 AUGUST

DEADLINE FOR REGISTRATION
10 AUGUST
Tourney Admins
forshire
ReiCasca
roi`crew|mArduk
Stages
1st :4 Groups, 4 or 5 Teams, 2 Games (both teams host)
2nd:Quarter Finals, 2 Groups(A-B), 4 Teams, 2 Games
3rd :Semi Finals, 4 teams, 3 Games (The first team of A vs the second team of B- The first team of B vs the second team of A)
4th: :Final 2 team, 3 Games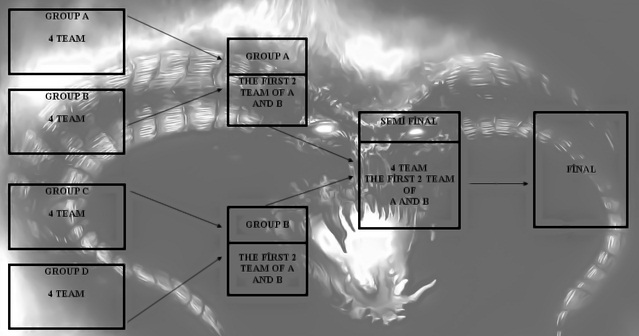 Maps
Group Stages: Osgiliath-Central Ithilien
Quarter Final: Eastfold-Harlond (if need 3rd map is Harlond)
Semi Final:Wold-Druradan Forest (if need 3rd map is Wold)
Final: Anorien
Rules:
1. The tournament will be on a League basis.
2. There will be 4 groups with min.of 4 teams (we can do that 5-6 team if more teams join the tournament )
3. Only 7 map will be played, both teams will host one time.Semi Final and Final games will be played on 3 map.The 3rd. game Admins will be hoster.
4. All matches will be Random mirrors.
5. Every single Match reveals 2 points for the winner.
6. There will be a Timeframe of 2 days to play 4 game, but every match can be played at any
time if both teams want to.(if u cant play 4 game in 2 days dont join the tourney)
7. If a team doesnt show up for arranged time, the other team gets the win.
8. There will be a topic for every Group(A-B-C-D). All games should be arranged there, so everybody can see it (no pm, no ig, no msn etc)
9. All players can be member of only 1 team.A team can have maximum 3 players
10. A team can take a "filler" if 1 of their members dont show up for arranged time. (if fillers aren't a member of other teams.)
11. All replays have to be posted by the winner, no replay reveals 0 points.
12. If theres no report of the game, no team gets points.Then u have to play that game again.
13. If theres a bug at Start, save replay and re the game as same armies.If you have extra Farm/Bs/Furnace/S.House as a bug, u have to say that other team save replay and re the game(same armies).If admins see that bug in replays, u will got a loss. (NOTE: if that bug come when a team going to win %99 that is not important.)
14. If someone dcs, u can ask the other team to re. If they dont agree u have to play on.If they agree ,teams will play as same armies
15. If it comes to draw in the semi-final or final round, there will be a 3rd game on Admin's host.
16. After the Group Stage, the first 2 teams of each group will move on to new group.The first 2 teams of A group will be in new group with The first 2 team of B group. Same rule for C and D groups too.(Quarter Final)
Extras
-Everyone have to register Teams in this topic.
-You can use Teamspeak in tourney, but Skype has bad lag for BFME.
-Games will be good if hosters set up the resolution to low or medium. No need to High or UltraHigh resolution.
-Welcome all Game on!


Last edited by forshire on Mon Aug 16, 2010 12:10 am; edited 23 times in total