3vs3 WORLD CUP
STARTING DATE
02 JULY

DEADLINE FOR REGISTRATION
30 JUNE
Tourney Admins
forshire
roi`crew|mArduk
ReiCasca
Stages
1st :4 Groups, 4 or 5 Teams, 2 Games (both teams host)
2nd:Quarter Finals, 2 Groups(A-B), 4 Teams, 2 Games
3rd :Semi Finals, 4 teams, 3 Games (The first team of A vs the second team of B- The first team of B vs the second team of A)
4rd: :Final 2 team, 3 Games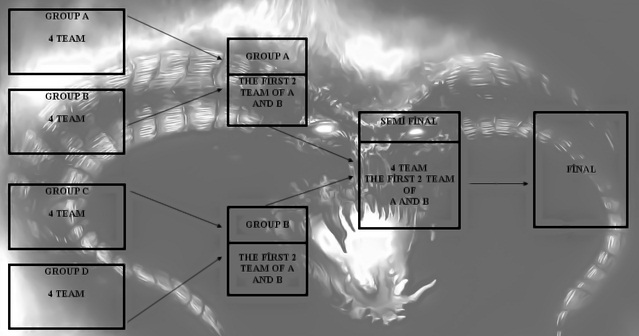 Maps
Lebennin Nurn Anfalas

Lebennin and Nurn till the Semi Final. Semi Final and Final:Anfalas-Lebenin-Nurn (3 game. The 3rd game will be played on Admin's host
Rules
1. The tournament will be on a League basis.
2. There will be 4 groups with min.of 4 teams (we can do that 5-6 team if more teams join the tournament )
3. Only 2 map will be played, both teams will host one time.Semi Final and Final games will be played on 3 map.The 3rd. game Admins will be hoster.
4. Every single Match reveals 2 points for the winner.
5. All matches will be Random mirrors.
6. There will be a Timeframe of 2 days to play 1 game, but every match can be played at any time if both teams want to.
7. There will be a topic for every Group(A-B-C-D). All games should be arranged there, so everybody can see it (no pm, no ig, no msn etc)
8. If a team doesnt show up for arranged time, the other team gets the win.
9. All players can be member of only 1 team.One team can have unlimited players if they aren't a member of other team.
10. A team can take a "filler" if 1 of their members dont show up for arranged time.
11. All replays have to be posted by the winner, no replay reveals 0 points.
12. If theres no report of the game, no team gets points.Then u have to play that game again.
13. If theres a bug at Start, save replay and re the game as same armies.If you have extra Farm/Bs/Furnace/S.House as a bug, u have to say that other team save replay and re the game(same armies).If admins see that bug in replays, u will got a loss.
14. If someone dcs, u can ask the other team to re. If they dont agree u have to play on.If they agree ,teams will play as same armies
15. AFTER a player has been defeated, he has to quit the game.This is so important. No quitting before, no spy.
16. If it comes to draw in Groups games or QF round, there will be a 3rd game on the admin's host.(map: Lebennin)
17. After the Group Stage, the first 2 teams of each group will move on to new group.The first 2 teams of A group will be in new group with The first 2 team of B group. Same rule for C and D groups too.(Quarter Final)
Extras
-Everyone have to register Teams in this topic.
-You can use Teamspeak in tourney, but Skype has bad lag for BFME.
-Games will be good if hosters set up the resolution to low or medium. No need to High or UltraHigh resolution. if you do that UltraHigh games gonna be lag 0.
-Welcome all Game on!


Last edited by forshire on Mon Jul 05, 2010 10:27 pm; edited 7 times in total